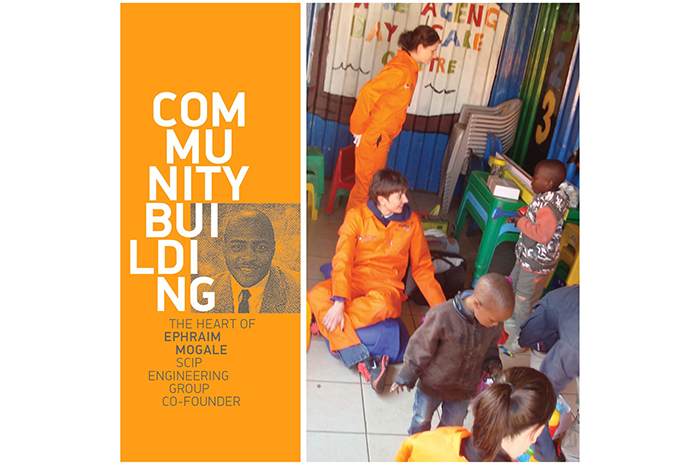 31 Jan

Ephraim Mogale

At a time of great change and even greater transformation, a wonderful partnership emerged. In 1997 two men: Ephraim Phumuga Mogale and Kobus Booyens Snr, who had a vision infused by the philosophies of unity, community, implementation and partnership came together and brought about a legacy.

Ephraim believed in the principles of Ubuntu. He had dedicated his life in service to people and this was evident in the many projects that he associated himself with. As one of the founders of Simunye Consulting and Implementation Partnership (SCIP), he was passionate about partnering with communities and building up communities. Ephraim, in association with SCIP, was involved in the creation and sponsorship of the Women's Soccer Team called Detroit in Kwaggafontein.

Given the opportunity or faced with the need, Ephraim's instinct was to help selflessly. This trait and the morals that he rooted himself in are what made him such a great business strategist and leader. His jolly disposition and presence in a room could be felt by those around him. He was a catalyst for much-needed change and he was never afraid to get the job done. At the heart of all that he did, was his keen focus on a way forward for those around him, for the country and people he so loved.

He played a critical role in educating the community against tribalism and refocused them towards the National Democratic Struggle. He worked hard to drive initiatives helping people move forward together and thus helped in the establishment of various organizations, which include South African Youth Congress (SAYCO), Detainees Parents Support Committee (DPSC), and United Democratic Front (UDF). He was the face of change that he wanted to see in the country that brought him hope. He was the foundation of the change that was envisioned by colleagues and compatriots. He took his passion for education further by becoming a founder member of the Congress of South African Students (COSAS), of which he was elected its President during its inaugural congress in 1979.

At the time of Ephraim's ultimate passing, he was a member of the Provincial legislature in Mpumalanga, where he served as a Chairperson of the Portfolio Committee on Agriculture, Conservation and Environment. He was also Chairperson of the South African Communist Party (SACP) in Mpumalanga. In this capacity, Ephraim served in the Central Committee of the SACP and the Provincial Executive Committee of the ANC.

The vision that Ephraim Mogale and Kobus Booyens had during the establishment of SCIP still lives on to this day. This can be seen in the keen interest of the organisation to build and support communities. The organisation has substantially grown since it was first established in 1997 and its principles remain unchanged. Ultimately, the core values and legacy of this great organisation is respect, community development and upliftment.